Whether you are a wine enthusiast or a wine connoisseur, you probably know how sensitive wine can be in temperature fluctuations. Because of this, it is crucial to keep wines at their ideal temperature so that they can be preserved and go through their aging process properly.
To ensure your collection of wine has the best flavors, you need to store them in a place with a constant temperature. Wines and Beverages coolers are designed to keep the wine from components that can damage it.
For wine bottles, the corks should always be moist. One way to do this is to place your bottles in a horizontal position. Aside from keeping the cork moist, this placement is space-saving as well.
Nevertheless, for champagne, whiskey, and other drinks, it is recommended to store them vertically. This lessens oxidation since the yeast descends at the base. As a result, your drinks can retain their taste.
If you want to upgrade to a versatile cooler, a wine and beverage cooler is perfect for you. Besides giving you chilled wine and other beverages any time of the day, most have great designs that make them a great accent to any part of your home. Moreover, their compact size makes them easy to install virtually anywhere, such as your living room, home bar, living room, dining room, and entertainment area, among many others.
This is a good addition to your home if you enjoy serving your family and friends with soda, wine, or beer, giving them a whole new level of entertainment. However, choosing the best wine and cooler for you can be a bit overwhelming. This is because a lot of models are available in the market. Even those with a large wine collection may find it difficult to find the cooler that best suits their needs.
You do not need to worry about that because we reviewed some of the best wine and beverage coolers available. Our cooler combos are designed to provide plenty of storage for your drinks and beverages while ensuring they remain at their optimal temperature. We also included additional information about these coolers to help you make a quick but smart purchase.
Before we get started, let us look at the temperature ranges and storage time for wines and beverages like beer and soft drinks.
Name of Wine, Beer, or Soft Drink
Temperature
Storage Time
Beer
39-59 degrees F

Don't open lid: 9 months

Opened lid: 1 day

Champagne
42-46 degrees F

Don't open lid: 1 year

Opened lid: 1 day

Whiskey
Not beyond 75 degrees F

Don't open lid: Indefinitely

Opened lid: Close lid

Red and White Wine
Red wine: 50-64 degrees F

White wine: 39-50 degrees F

Don't open lid: 1 year

Opened lid: 3 days

Soda, Minera Water
38-42 degrees F

Don't open lid: 6 months

Opened lid: 2 days

Freshwater
38-42 degrees F

Don't open lid: 6-9 months

Opened lid: 1 day

Pepsi water: 2-5 days
The 15 Best Wine and Beverage Cooler Review 
Foodieandtours.com is reader-supported. When you buy via the links on our site, we may earn an affiliate commission at no cost to you.
Here is our review of the best wines and beverages coolers.
1. Our Pick:

120-Can Beverage Refrigerator and Cooler for Soda, Beer, and Wine by hOmeLabs
This beverage refrigerator and cooler from hOmeLabs is appreciated by many because it is packed with useful features. First, the cooler's range of temperature makes it possible to keep all kinds of drinks virtually. Second, aside from having a great temperature range, it can also maintain a constant temperature because of its built-in fan.
Another great spec is the memory for the previous setting that allows it to remember the temperature set before a power outage. Therefore, even if you are not around, there is no need to adjust it again. In addition, it has a quiet compressor and auto-defrost function for easy maintenance.
The cooler's design and construction are also notable. The controls are digital and easy to use, and you can set everything up with just a light touch. Additionally, the large digital display makes it possible to monitor and set the desired temperature effortlessly.
In terms of storage, you will be amazed by how large this electric cooler is. Some reviews have noted that the 120-can-capacity can hold more than 120 cans. Plus, you can store 60 large wine bottles.
Things We Liked
Operates quietly and efficiently
Simple but sleek design making it suitable for any space
It doesn't need installation
Includes auto-defrost feature
Temperature sensor
Maintains and provides set temperature well and fast
Things We Disliked
An internal fan found at the back would have provided more capacity if it were in a different direction.
2. Runner Up: NewAir NBC126SS02 126-Can Beverage Refrigerator and Cooler
Do you enjoy taking a chilled drink at home or the office? Then, you should consider this beverage refrigerator and cooler from NewAir. This is a great option to store your wines, beers, sodas, and many other beverages.
It can maintain an internal temperature of 37 degrees Fahrenheit, and you do not have to wait long to have a chilled drink. Unlike most coolers in the market, this model has a roomy design that allows you to store a whopping 126 cans. Better yet, the removable storage rack helps to create additional storage space for your large collection of beverages, wine, or beers.
Something else that stands out is its construction. It has an attractive stainless-steel design that is durable and can serve you for a long time. In addition, you can place this virtually anywhere because it is a freestanding type.
Although it does not have a digital screen, you will love that this unit has a noise-reducing feature. It also allows you to pick a temperature setting out of the 7 thermostat settings. In addition, the cooler is equipped with interior LED lights that illuminate when the door is opened for aesthetic purposes.
Things We Liked
Can store various drinks
Space-saving and compact
Durable construction
Interior LED lights
Flexible storage
Great value for money
Things We Disliked
The noise can be bothersome if placed at home
The temperature gauge is inconveniently placed
3. Budget Pick: 18-Bottle Freestanding Wine Cooler and Chiller by Ivation
If you are under a tight budget and want a cooler that will allow your wine to age consistently, this wine cooler and chiller from Ivation might be a good choice. It can hold a constant temperature, so it is great to store both red and white wines. Aside from setting the temperature you want for your wines, you can also set the preservation time.
The chiller is well-insulated thanks to the CFC-free heavy foam and solid polyurethane. The doors are also thermopane and tempered smoke.
The interior also does not have any smell like you may experience with other models. For this reason, you do not have to worry about the humidity levels. Moreover, this helps prevent the corks of your wine bottles from becoming dry.
It is also important to note that materials and insulation protect the unit from harsh UV rays making it last longer. It also does not consume much energy because of its thermoelectric cooling system that does not operate using a compressor.
This feature also lessens noise and vibration, so your wines are kept in their ideal environment. The LED screen is also functional and allows you to control the cooler easily. It is a great accent to any room.
On the downside, it is not recommended to install this unit in warmer areas like the garage. Additionally, it lacks adequate clearance space.
Things We Liked
Wide temperature range
It comes with 3 removable shelves
Good insulation that protects the unit from UV rays and humidity
LED control provides convenience
Super quiet with less vibration
Things We Disliked
It uses more energy than other units
It lacks clearance space
Not ideal to be installed in a garage or other warm areas
4. Upgrade Pick: Kalamera Built-In and Freestanding Beverage and Wine Cooler
If you think of installing or upgrading your cooler in your entertainment room, kitchen, game room, or home bar, you can check out this beverage and wine cooler from Kalamera.
It provides convenience in regulating and controlling the temperature because of its LCD screen. If there is a power outage, its thermal meter can remember the temperature set when the power comes back. Also, it can prevent your wine collection and other drinks from getting spoilt. This is made possible by its cooling technology.
The unit can keep 20 wine bottles and 60 canned drinks in its dual-zone storage. In addition, you can expect refreshing drinks as it features advanced temperature control technology in both its left and right zones. There are also 7 wooden shelves and 6 wire racks.
Installation is a breeze because you have the option to set it up as a freestanding unit or put it under the counter. Whatever you choose, it is recommended that you leave ample space for proper ventilation. All in all, the function and dial-zone feature of this Kalamera cooler is worth checking out.
Things We Liked
Keeps wines and other beverages at an ideal temperature
It can hold a lot of wines, sodas, and beers
Easy to install and maintain
It comes with French doors
Things We Disliked
Shelves could have better storage capacity
5.

58-Can and 18-Bottle Freestanding Wine and Beverage Cooler by NewAir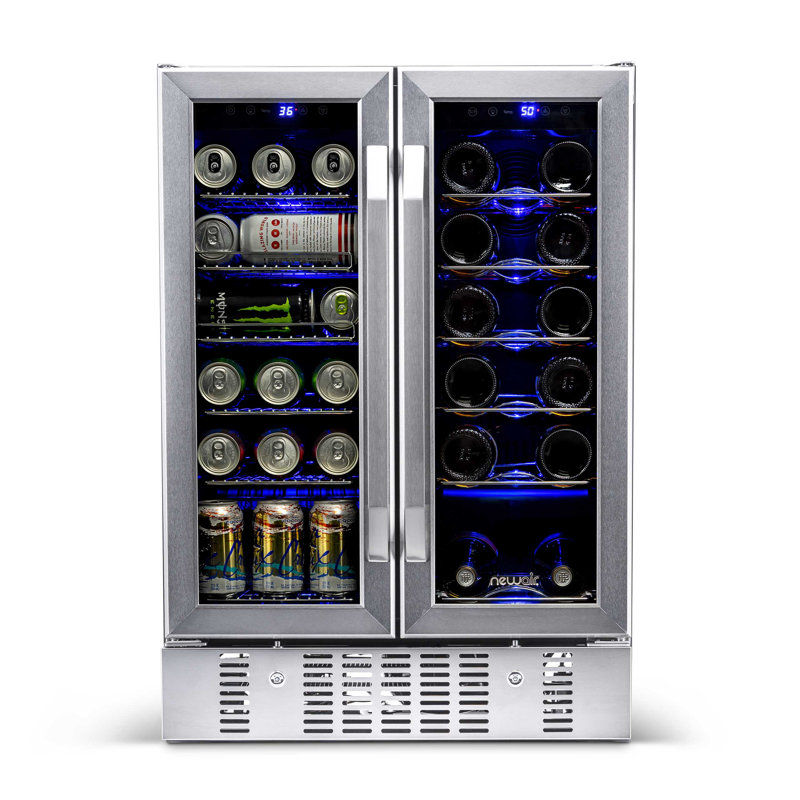 These NewAir wines and beverages coolers are beautiful and useful. Aside from its stainless-steel finish, it has a dual-zone cooling feature ideal for your canned drinks and wine bottles. Furthermore, you can easily adjust the temperature between 36 to 72 degrees Fahrenheit.
It is ideal for home bars and kitchens, and you can also put your fruit cups and a lot more. Its 2 French doors are great for curved or flat shelves. Your wines and other drinks are displayed elegantly because of the LED lights that give the perfect illumination.
This is a great model if you want to enjoy chilled drinks at any temperature. It also has a front vent and cooled compressor system that operates quietly. Moreover, you have the choice of installing it as built-in or freestanding. Its additional feature is the door lock to ensure the safety and security of your drinks, especially if your home has children.
Things We Liked
It fits nicely under a counter
It gives set temperature quickly
Racks are flexible and interchangeable
Made of quality material
Includes lock feature
Easy to adjust the temperature
Things We Disliked
6.

18-Bottle and 55-Can Wine and Beverage Refrigerator by Lanbo
Are you looking for the best small kitchen wines and beverages refrigerator available in the market? If so, look no further than this Lanbo unit that comes with all you need to keep your bottles and cans chilled.
With the digital touch control panels and intuitive display, setting the ideal temperature is easy. This allows you to personalize the temperatures for all your drinks. This model has 2 sides.
The left side of the unit is designed for wine bottles, and it can accommodate 18 wine bottles with a temperature range of 41 to 64 degrees F. The right side can hold 55 canned beverages and keep them cool at 39 to 50 degrees. The left zone has wood shelves, while the right zone has steel wire shelves.
Aside from providing you more storage space, this refrigerator makes it a lot easier to keep all your drinks organized in sections. In addition, because there are 2 temperature zones, you can easily adjust them depending on what drinks you keep in this fridge.
This provides more convenience because it works with different kinds of beverages. Also, it operates on a compressor and comes with powerful circulating fans and two safety locks. The safety lock feature protects your unit and your collection as well. There is also a carbon filter to ensure that clean air circulates throughout.
Things We Liked
It can be installed as a freestanding or built-in unit
Has bright LED lights
Looks stylish
Temperature can be managed easily
It fits easily under counters
Things We Disliked
Loud noise during operation
Lights require manual operation
7.

Kalamera 96-Can Beverages Cooler and Refrigerator
After durability, stylish design, low noise, and installation versatility, you may want to check out this unit. Convenient temperature control and useful memory function, this beverage refrigerator from Kalamera are worth checking out. One of its best features is its temperature range. The unit itself is efficient because it can hold a wide range of drinks. While it is great for storing beverages, you do not have to worry about your beers getting too cold. You can keep them in this refrigerator, and they will not burst from frigid temperatures.
The installation is also flexible since you can install it as a built-in or freestanding fridge. The reason for this is its vent which can be found at the bottom part. Other great features are the security lock and carbon filter and useful memory function.
The security lock gives you peace of mind that your drinks are protected. On the other hand, the carbon filter eliminates odors that could damage your drinks.
Things We Liked
Simple but modern and beautiful look
Has a temperature memory function
Operates quietly and efficiently
The display screen and controls are convenient
It comes with reversible doors
Things We Disliked
Light positioning would've been better if placed on the sides.
8.

6-Beer Ice Cube Maker Wine and Beverage Chiller by InnoChiller
For kitchens that have a lot of equipment, this unique cooler from InnoChiller is a must-have. Its best benefit would be the ability to chill virtually any type of drink in no time. You can easily enjoy cold drinks if you suddenly want one or forgot to put some in the fridge.
It is the only chiller in the market that does not need ice cubes to function fast. This is due to its specially designed ice cube tray that makes and freezes ice cubes in 30 minutes, saving you 2 to 3 hours.
In several instances, it functions faster than ice and water mix, according to tests. This is possible because of the big temperature difference between the freezer and the beverages you want to cool down. This is also good to use if your freezer has a lot of frozen products. You can put these inside your refrigerator.
Things We Liked
The strength of the fan is great
Utilizes wind chill technology to chill drinks
Nice compact design
Chills wine and other drinks fast
It gives you more space in your fridge
Things We Disliked
The placement of charging ports could be improved
You need to wait for hours before it gets fully charged
The panel and controls are not very user-friendly
9.

150-Can Beverage Cooler by Haier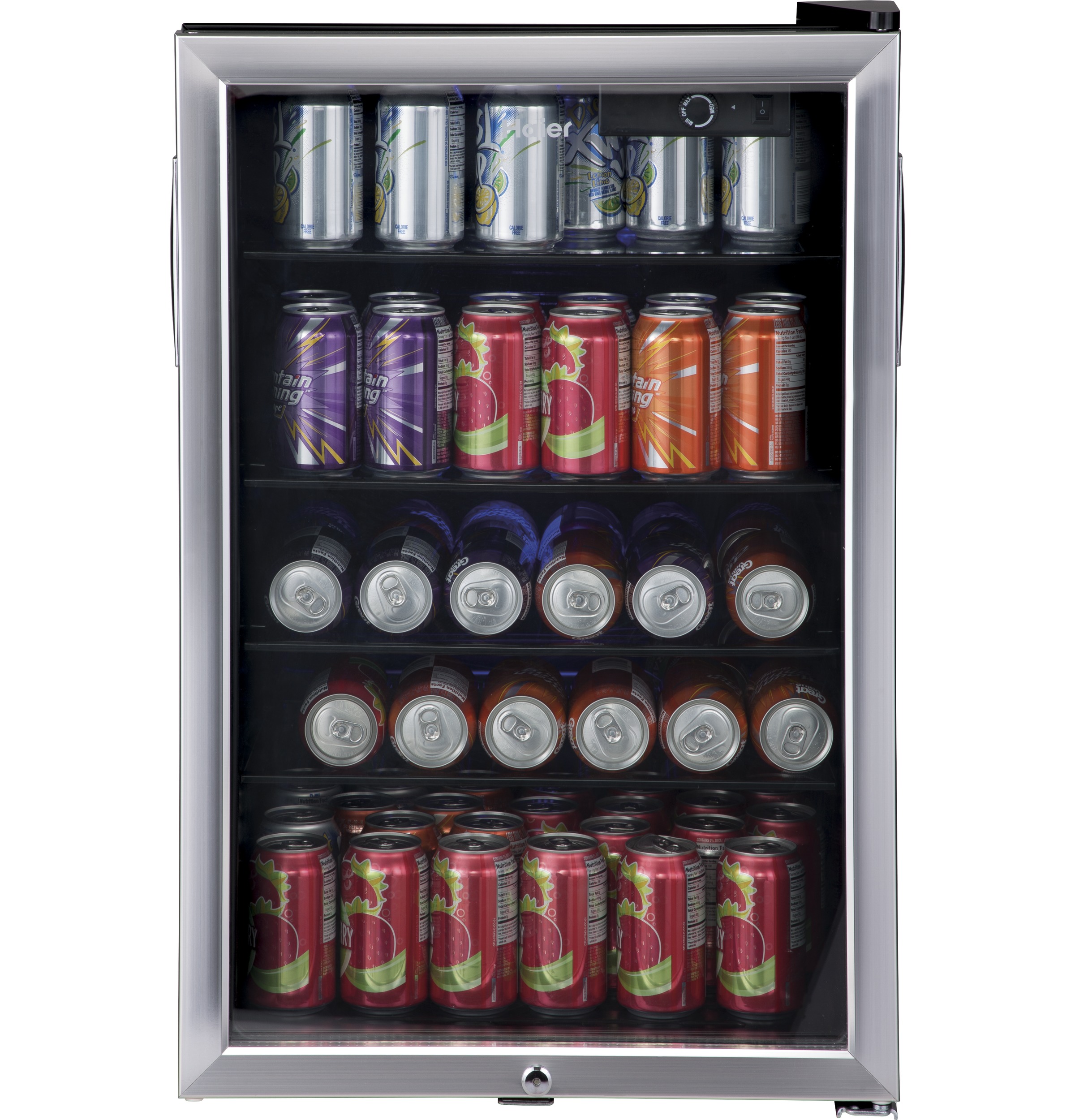 Hairer is a reputable and one of the leading appliance brands across the globe. It produces a lot of home appliances and products that are loved and appreciated by most homeowners…and this 150 can beverage cooler is no exception.
One thing great about this unit is its large capacity. Many customers were also particular with this feature because they could stock up on various kinds of drinks. So whether you want a cooler for your home, bar, or a special event, you will never go wrong with this cooler.
It can readily provide your guests with a cold drink. Despite the generous storage capacity, it also features a wonderful design that is a great addition to any space. It is comfortable because of its reversible door, external cabinet, and fixed handle.
Moreover, the LED lights and the bottom rack are also beneficial because you can position your beer bottles upright to be more noticeable. Plus, you won't have to worry about noise because it has a quiet operation.
Things We Liked
Quiet and efficient operation
Has reversible doors
LED lights give it a nice internal ambiance
Generous storage capacity
Things We Disliked
Many do not like the door because of its black tint.
10.

Antarctic Star 26-Bottle Wine and Beverage Cooler for Red and White Wines, Beer, and Soda
This Antarctic Star wine and beverage cooler is a must-have if you are a wine enthusiast or casual drinker. It will keep your wine and other drinks like soda or water at an optimal temperature so you can enjoy every drop. In addition, the sleek look of the cooler is a nice enhancement to its temperature stability feature.
You can also efficiently and safely store your bottles because of the cooler's horizontal racks. In addition, the LED lights make your collection presentable without altering the temperature. To adjust the temperature, you simply need to turn the knob.
Things We Liked
Great storage for wine bottles, cans, and bottles
Has airtight seals
Double-paned glass
Has reversible doors
LED lights
Things We Disliked
It is recommended to be installed as a freestanding cooler.
11.

Bossin 120-Can Beverage Refrigerator and Cooler
This Bossin beverage refrigerator is ideal for offices and homes. You can easily regulate the internal temperature through the easy touch feature. Therefore, you personalize the temperature from 40 to 61 degrees F, depending on what works for you.
Plus, the digital display and temperature control are located outside the cooler means that you can easily adjust the temperature without affecting the inside temperature.
It is easy to maintain and store your beverages because of the removable shelves. In addition, the shelves can comfortably accommodate up to 6o cans.
The double-panel glass doors prevent UV rays from damaging your drinks. This is important because UV light and heat can interfere with the quality and flavor of your drinks. It also operates quietly and has LED lights that make the unit look more elegant. If you have limited space, this unit is great because this fits in small spaces.
Things We Liked
Looks sleek and fits any room
The temperature can be modified easily
Has optimal humidity levels
Great for homes and offices
Things We Disliked
12.

17-Bottle and 53-Can Beverage Cooler by EdgeStar
This cooler from EdgeStar is a great accent to your home. It has a large storage capacity for your wines and other drinks, making it great if you have small gatherings or parties. Moreover, it can be installed in small spaces such as under your counter. Finally, because of its French door, it can make any space in your house more beautiful.
The advanced cooling feature, touchscreen display and controls, and glass doors are some of the features that are quite impressive. Additionally, it comes with adjustable shelves for flexible storage.
Things We Liked
It comes with adjustable shelves
It can be easily installed
Chills beer and wine bottles well
Great for small spaces
Things We Disliked
Hard to find spare parts
Noise can be a bit disturbing
13.

Phiestina 20-Bottle and 78-Can Wine and Beverage Refrigerator
You get the value for your money with this wine and beverage refrigerator because it can keep your drinks perfectly cool. This is made possible by its advanced temperature control technology feature.
Moreover, it comes with 12 adjustable shelves, so you have more storage options and space. You can also easily regulate the temperature on the left and right sides as well.
Its protective plate boosts the look of the unit and ensures that heat is well dispersed. The Led lights are not only aesthetically pleasing but also energy efficient. This wine cooler is suitable for hotels, bars, offices, cellars, kitchen counters, and homes.
Things We Liked
Blue LED lights that are very energy-efficient
Beautifully designed
Easy to grip handles
Advanced temperature control technology.
Things We Disliked
Temperature inconsistency
14.

Kalamera 20-Bottle and 60-Can Beverage and Wine Cooler
One of the best ways to amplify your entertainment room, kitchen, bar, or game room is to get Kalamera's beverage and wine cooler. This cooler is convenient to set and control the temperature because of its LCD screen. Also, you do not need to set the temperature again because it has a thermal meter that prevents your drinks from spoiling.
The cooling technology ensures the freshness of your drinks, especially your wines. The storage has 6 wire racks and 7 wooden shelves with a state-of-the-art temperature control feature.
Things We Liked
It comes with elegant French doors
Can hold wines, sodas, and beers
Easy to set up and maintain
Operates on the ideal temperature.
Things We Disliked
15.

NewAir 126-Can Limited Edition Beverage Fridge
This limited-edition beverage fridge from NewAir is not unique but also very functional. Its size is ideal for installation at homes, offices, and virtually any place you want to access a cold drink easily.
Another great thing about it is that you do not need to renovate your space to make room for this appliance. It is compact but spacious enough to accommodate 126 cans.
Moreover, the adjustable shelves can hold a combination of any drinks. You can stock up with canned drinks or adjust it to fit tall bottles and cans.
It also has excellent insulation because of the double-paned glass door. In addition, you can open the unit in any direction because of the reversible fixed handle of the door, which is made of stainless steel.
Things We Liked
Operates quietly
Great for indoor use
LED lights work well
The temperature can be changed easily.
Things We Disliked
Issues with compressor
The instruction manual can be confusing
Wines and Beverages Coolers Buyer's Guide
Truth be told, finding the perfect wine and beverage cooler for your needs can be unnerving. This is because of the wide collection of models in the market. Here is what you need to consider when getting a wine and beverage cooler.
1. Location
One of the most important factors to consider in getting a wine and beverage cooler is the location. This will help you decide what type or model of cooler you want. For example, do you want to place it under your counter or outdoors in your grilling area? You also think of the aesthetic you are going for whether you place it in your dining room or work area. Freestanding, built-in, and outdoors are some of the types of coolers you can consider.
A built-in cooler with an exhaust in front is great to be placed in cabinets. Freestanding wine and beverage coolers are great if you have extra floor space or counter. However, this type of cooler disperses heat at the back. Therefore, it is not good to put a freestanding cooler in cabinets since there is not enough space at the back for heat to be released.
2. Size
You need to decide how much capacity you want your cooler to have. If you only want a few wines and other drinks readily available, you can opt for the smaller models. Nevertheless, if you plan to have stocks of drinks for parties, free up space in your fridge, or build a kitchen outdoors, it is recommended to get a larger model.
3. Appearance
Depending on the design or interiors, many designs and types of coolers are available that suit your room concept. For example, you will find many coolers with a clear or tinted glass front with stainless steel frames. There are also ones that have a black finish while others have an all-stainless-steel finish.
Coolers with a stainless-steel finish are famous for home bars and kitchens since they give these spaces a luxurious feel. Therefore, if you are going for that feel, opt for these cooler.
Black coolers are also a great addition to any space since black always goes well in any color scheme. If you want your cooler to make a statement whenever you have house gatherings, get coolers with custom designs.
4. Maintenance
Any type of wine and beverage cooler is not hard to maintain. You simply need to clean the glass front using a mix of water and vinegar and use a solution with mild soap and warm water for the door gaskets. Then, you just wipe all these clean, and you are done.
Coolers with automatic defrost work by draining the droplets into the pan. The pan evaporates these droplets from the condenser's heat. For models with manual defrosting, you would have to maintain their performance by removing ice that built up and let them sit outside to defrost so that mold would not accumulate.
Extra Features
When you finish determining the basics you want your cooler to have, you can now check out extra features. These features can make your cooler more convenient or safer.
5. Security
A cooler with a security lock and key is highly recommended if you share a commercial space or live with children. This feature can give you peace of mind knowing that your beverages are secure. For people with expensive or vast wine collections, this feature can also be helpful.
6. Reversible Doors
If you are keen on details, a cooler with reversible doors is a great choice. This gives you the option to place the handle on the left or right side of the door. As a result, you have more space, and you can expect your cooler to function at its best.
Frequently Asked Questions
Q: Why should l get a wine and beverage cooler?
A: If you have wine bottles, you should place them far from heat, vibration, humid environment, and light. Aside from keeping your other beverages chilled, a wine and beverage cooler provides optimal temperature and humid levels to protect your wine from harmful UV rays. In addition, it minimally or does not vibrate at all, making your wines long-lasting. Plus, you can have a chilled drink anytime you want.
Q: How can I let my wine better age with a wine and beverage cooler?
A: The ideal humidity level of wine is around 70%. Therefore, you need a wine cooler with great insulation or humidity control to ensure constant humidity levels. These also help to prevent corks from becoming dry.
Q: Where can I install my wine and beverage cooler?
A: The installation of wine and beverage coolers provides flexibility. Because these are smaller compared to standard refrigerators, they are great to be placed in your recreation rooms, office, game rooms, patios, home bars, and home theaters, among many others. For built-in types, you can put these inside your home bar or kitchen cabinet.
Q: How do I clean my wine and beverage cooler?
A: Wine and beverage coolers can have the feature of auto or manual defrost. These units can regularly warm up the internal coils to melt any ice or frost buildup for the former. However, although it provides more convenience in terms of maintenance, it consumes more energy because it generates heat in a cold space.
On the other hand, manual defrost units need to be unplugged to melt the ice buildup. Therefore, you need to remove all the drinks inside and place them outside to defrost. This helps to prevent damage. In addition, every 6 months, you can dust off exposed coils located at the back of the cooler so that your cooler can run more efficiently.
Q: What is the alcohol content of wine cooler drinks?
A: There is about an average of 6% alcohol content in wine cooler drinks. There is around 4% for beer, while wines have around 10 to 14% alcohol, which is higher. Nevertheless, wines are consumed in smaller portions compared to other alcoholic drinks in wine and beverage coolers. Many wine coolers can be bought in 12 oz bottles.
Conclusion
With the perfect wine and beverages coolers at your disposal, you will have an easy time storing your collection of wine and beverages. Nevertheless, you should not scrimp on a wine and beverage cooler. Buying a wine and beverage cooler can be a great investment, so it is best to get stylish and functional and last for a long time.
A quality cooler is necessary to entertain guests or let your employees enjoy a chilled drink at work. Wine and Beverage coolers are versatile since you are not limited to just keeping wine bottles there. Instead, you can store your collection of wine and beverages while ensuring the right temperature.
Before going shopping for your next wine and beverage cooler, we recommend keeping in mind important factors like temperature range, capacity, energy efficiency, style construction, and security in mind. To make a smart purchase, you also need to identify your requirements and budgetary needs so you can find the perfect model for you.
The 15 Best Wines and Beverages Coolers for Chilled Beer, Soda, and Wine